Open Source Android Apps for Developers: NetCounter
Cute Android: Open Source Android Apps for Developers: NetCounter
Description
NetCounter is an open source Android projecth which the developer wrote it for himself to show the current bandwidth usage. It is a network traffic counter for the Android platform. As a big Unix/Linux fan, the developer like the K.I.S.S. principle. So this application will not integrate tons of features but will (try) to display your network traffic consumption in a simple and nice manner.
Project Home
http://www.jaqpot.net/netcounter/
Project owners
Jaquier Brothers
Version
v0.14.1
Downloads
http://www.jaqpot.net/netcounter/netcounter-0.14.1.apk
QR code
…
Source Code
NetCounter is an open-source software available under the GPLv3 license. You can get the code from my Subversion repository. Feel free to look at it and submit patches if you find bugs or want to improve something.
To get the latest version, use:
svn co https://www.jaqpot.net/svn/android/netcounter/trunk netcounter

Main Features
* Open-source software.
* Network traffic counter for both EDGE/3G and Wi-Fi.
* Available in English, German, Czech, Italian, French, Russian, Spanish and more.
* Data are persisted.
* Dynamic counters that can be added, modified and removed. "Total", "Last 30 days", "Last 7 days", "Today", "Yesterday", "Weekly", "Monthly" and more are available.
* Alerts on a counter basis if limit exceeded.
* Starts automatically if you restart your phone.
* Export/Import data to/from the SD card (CSV format).
ScreenShots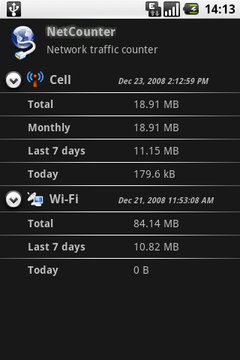 Posted by Cute Android
Related Android Apps: